There are still many low competition niches on YouTube. Find them on
FindAChannel.Net
.
Forums in the Classic Cars Niche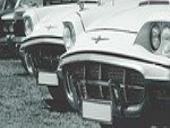 These are the 50 most relevant discussion forums in the classic cars niche.
Some of these forums focus exclusively on the classic cars niche while others may only devote one or two sub-forums to it.
If you don't see too many relevant forums listed then please do tell us about some forums in this niche by using the submit forum page. Alternatively why not start your own forum in this niche?
To find WordPress and Blogger blogs in this niche, visit our sister site FindABlog.Net.
About the Classic Cars Niche
A classic car is an older car, typically 20 years or older, though definitions vary. The common theme is of an older car of sufficient historical interest to be collectible and worth preserving or restoring rather than scrapping. Organisations such as the Classic Car Club of America maintain lists of eligible unmodified cars that are called classic. These are described as fine or distinctive automobile, either American or foreign built, produced between 1915 and 1948. Post-World War II classic cars are not precisely defined and the term is often applied to any older vehicle. Source: WikiPedia
Saki Says...
This niche isn't too competitive so with some careful keyword research and some high quality content you could still do well in 2023.