Forums in the Golf Ball Niche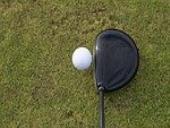 These are the 50 most relevant discussion forums in the golf ball niche.
Some of these forums focus exclusively on the golf ball niche while others may only devote one or two sub-forums to it.
If you don't see too many relevant forums listed then please do tell us about some forums in this niche by using the submit forum page. Alternatively why not start your own forum in this niche?
To find WordPress and Blogger blogs in this niche, visit our sister site FindABlog.Net.
About the Golf Ball Niche
Golf Ball is a 1962 painting by Roy Lichtenstein. It is considered to fall within the art movement known as Pop art. It depicts a single sphere with patterned, variously directional semi-circular grooves. The work is commonly associated with black-and-white Piet Mondrian works. It is one of the works that was presented at Lichtenstein's first solo exhibition and one that was critical to his early association with pop art. The work is commonly critiqued for its tension involving a three-dimensional representation in two dimensions with much discussion revolving around the choice of a background nearly without any perspective. Source: WikiPedia
Saki Says...
This is a fairly competitive niche but if you take time to do long tail keyword research and have some new ideas you could do okay.