Forums in the Martial Arts Niche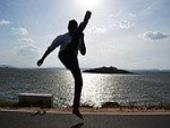 These are the 50 most relevant discussion forums in the martial arts niche.
Some of these forums focus exclusively on the martial arts niche while others may only devote one or two sub-forums to it.
If you don't see too many relevant forums listed then please do tell us about some forums in this niche by using the submit forum page. Alternatively why not start your own forum in this niche?
To find WordPress and Blogger blogs in this niche, visit our sister site FindABlog.Net.
About the Martial Arts Niche
Martial arts are codified systems and traditions of combat practiced for a number of reasons such as self-defense; military and law enforcement applications; competition; physical, mental, and spiritual development; entertainment; and the preservation of a nation's intangible cultural heritage. Although the term martial art has become associated with the fighting arts of East Asia, it originally referred to the combat systems of Europe as early as the 1550s. The term is derived from Latin and means arts of Mars, the Roman god of war. Some authors have argued that fighting arts or fighting systems would be more appropriate on the basis that many martial arts were never martial in the sense of being used or created by professional warriors. Source: WikiPedia
Saki Says...
This niche isn't too competitive so with some careful keyword research and some high quality content you could still do well in 2023.