Want to start your own YouTube Channel? Check out
FindAChannel
to get some niche ideas.
Forums in the Power Tools Niche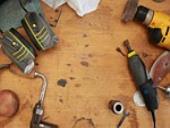 These are the 50 most relevant discussion forums in the power tools niche.
Some of these forums focus exclusively on the power tools niche while others may only devote one or two sub-forums to it.
If you don't see too many relevant forums listed then please do tell us about some forums in this niche by using the submit forum page. Alternatively why not start your own forum in this niche?
To find WordPress and Blogger blogs in this niche, visit our sister site FindABlog.Net.
About the Power Tools Niche
A power tool is a tool that is actuated by an additional power source and mechanism other than the solely manual labor used with hand tools. The most common types of power tools use electric motors. Internal combustion engines and compressed air are also commonly used. Other power sources include steam engines, direct burning of fuels and propellants, such as in powder-actuated tools, or even natural power sources such as wind or moving water. Tools directly driven by animal power are not generally considered power tools. Power tools are used in industry, in construction, in the garden, for housework tasks such as cooking, cleaning, and around the house for purposes of driving, drilling, cutting, shaping, sanding, grinding, routing, polishing, painting, heating and more. Power tools are classified as either stationary or portable, where portable means hand-held. Portable power tools have obvious advantages in mobility. Source: WikiPedia
Saki Says...
This is a fairly competitive niche but if you take time to do long tail keyword research and have some new ideas you could do okay.