Forums in the Table Tennis Niche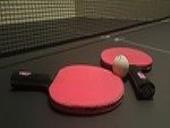 These are the 50 most relevant discussion forums in the table tennis niche.
Some of these forums focus exclusively on the table tennis niche while others may only devote one or two sub-forums to it.
If you don't see too many relevant forums listed then please do tell us about some forums in this niche by using the submit forum page. Alternatively why not start your own forum in this niche?
To find WordPress and Blogger blogs in this niche, visit our sister site FindABlog.Net.
About the Table Tennis Niche
Table tennis, also known as ping-pong and whiff-whaff, is a sport in which two or four players hit a lightweight ball, also known as the ping-pong ball, back and forth across a table using small rackets. The game takes place on a hard table divided by a net. Except for the initial serve, the rules are generally as follows: players must allow a ball played toward them to bounce one time on their side of the table, and must return it so that it bounces on the opposite side at least once. A point is scored when a player fails to return the ball within the rules. Play is fast and demands quick reactions. Spinning the ball alters its trajectory and limits an opponent's options, giving the hitter a great advantage. Table tennis is governed by the worldwide organization International Table Tennis Federation, founded in 1926. ITTF currently includes 226 member associations. The table tennis official rules are specified in the ITTF handbook. Source: WikiPedia
Saki Says...
This is a fairly competitive niche but if you take time to do long tail keyword research and have some new ideas you could do okay.