Want to make big money with a forum?
This page
shows the 25 hottest forum niches here on FindAForum.
Forums in the Computer Hardware Niche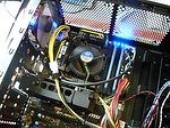 These are the 50 most relevant discussion forums in the computer hardware niche.
Some of these forums focus exclusively on the computer hardware niche while others may only devote one or two sub-forums to it.
If you don't see too many relevant forums listed then please do tell us about some forums in this niche by using the submit forum page. Alternatively why not start your own forum in this niche?
To find WordPress and Blogger blogs in this niche, visit our sister site FindABlog.Net.
About the Computer Hardware Niche
Computer hardware includes the physical parts of a computer, such as the case, central processing unit, monitor, mouse, keyboard, computer data storage, graphics card, sound card, speakers and motherboard. By contrast, software is the set of instructions that can be stored and run by hardware. Hardware is so-termed because it is hard or rigid with respect to changes, whereas software is soft because it is easy to change. Hardware is typically directed by the software to execute any command or instruction. A combination of hardware and software forms a usable computing system, although other systems exist with only hardware. Source: WikiPedia
Saki Says...
This niche isn't too competitive so with some careful keyword research and some high quality content you could still do well in 2023.