Forums in the German Shepherd Niche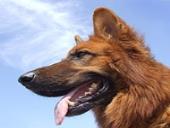 These are the 40 most relevant discussion forums in the german shepherd niche.
Some of these forums focus exclusively on the german shepherd niche while others may only devote one or two sub-forums to it.
If you don't see too many relevant forums listed then please do tell us about some forums in this niche by using the submit forum page. Alternatively why not start your own forum in this niche?
To find WordPress and Blogger blogs in this niche, visit our sister site FindABlog.Net.
About the German Shepherd Niche
The German Shepherd is a breed of medium to large-sized working dog that originated in Germany. According to the FCI, the breed's English language name is German Shepherd Dog. The breed was officially known as the Alsatian Wolf Dog in the UK from after the First World War until 1977 when its name was changed back to German Shepherd. Despite its wolf-like appearance, the German Shepherd is a relatively modern breed of dog, with their origin dating to 1899. As a herding dog, German Shepherds are working dogs developed originally for herding sheep. Since that time, however, because of their strength, intelligence, trainability, and obedience, German Shepherds around the world are often the preferred breed for many types of work, including disability assistance, search-and-rescue, police and military roles and acting. The German Shepherd is the second-most registered breed by the American Kennel Club and seventh-most registered breed by The Kennel Club in the United Kingdom. Source: WikiPedia
Saki Says...
This niche isn't too competitive so with some careful keyword research and some high quality content you could still do well in 2023.