Forums in the Muay Thai Niche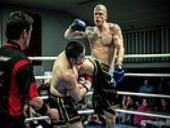 These are the 11 most relevant discussion forums in the muay thai niche.
If you don't see too many relevant forums listed then please do tell us about some forums in this niche by using the submit forum page. Alternatively why not start your own forum in this niche?
To find WordPress and Blogger blogs in this niche, visit our sister site FindABlog.Net.
About the Muay Thai Niche
Muay Thai, sometimes referred to as Thai boxing, is a combat sport that uses stand-up striking along with various clinching techniques. This discipline is known as the art of eight limbs as it is characterized by the combined use of fists, elbows, knees and shins. Muay Thai became widespread internationally in the late-20th to 21st century, when Westernized practitioners from Thailand began competing in kickboxing and mixed rules matches as well as matches under muay Thai rules around the world. The professional league is governed by The Professional Boxing Association of Thailand, sanctioned by The Sports Authority of Thailand. Muay Thai is related to other martial art styles such as Muay Chaiya, Muay boran, Muay Lao, Lethwei, Pradal Serey and Tomoi. Muay Thai developed from the traditional Muay Boran. A practitioner of muay Thai is known as a nak muay. Western practitioners in Thailand are sometimes called nak muay farang, meaning 'foreign boxer'. Source: WikiPedia
Saki Says...
This niche isn't too competitive so with some careful keyword research and some high quality content you could still do well in 2023.