Forums in the Small Business Niche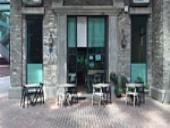 These are the 50 most relevant discussion forums in the small business niche.
Some of these forums focus exclusively on the small business niche while others may only devote one or two sub-forums to it.
If you don't see too many relevant forums listed then please do tell us about some forums in this niche by using the submit forum page. Alternatively why not start your own forum in this niche?
To find WordPress and Blogger blogs in this niche, visit our sister site FindABlog.Net.
About the Small Business Niche
Small businesses are privately owned corporations, partnerships, or sole proprietorships that have fewer employees and/or less annual revenue than a regular-sized business or corporation. Businesses are defined as small in terms of being able to apply for government support and qualify for preferential tax policy varies depending on the country and industry. Small businesses range from fifteen employees under the Australian Fair Work Act 2009, fifty employees according to the definition used by the European Union, and fewer than five hundred employees to qualify for many U.S. Small Business Administration programs. While small businesses can also be classified according to other methods, such as annual revenues, shipments, sales, assets, or by annual gross or net revenue or net profits, the number of employees is one of the most widely used measures. Source: WikiPedia
Saki Says...
Yikes - this is a VERY competitive niche but if you had a forum in this niche you could potentially make a lot of money!