Forums in the Trade Show Niche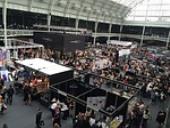 These are the 50 most relevant discussion forums in the trade show niche.
Some of these forums focus exclusively on the trade show niche while others may only devote one or two sub-forums to it.
If you don't see too many relevant forums listed then please do tell us about some forums in this niche by using the submit forum page. Alternatively why not start your own forum in this niche?
To find WordPress and Blogger blogs in this niche, visit our sister site FindABlog.Net.
About the Trade Show Niche
A trade fair is an exhibition organized so that companies in a specific industry can showcase and demonstrate their latest products and services, meet with industry partners and customers, study activities of rivals, and examine recent market trends and opportunities. In contrast to consumer fairs, only some trade fairs are open to the public, while others can only be attended by company representatives and members of the press, therefore trade shows are classified as either public or trade only. A few fairs are hybrids of the two; one example is the Frankfurt Book Fair, which is trade only for its first three days and open to the general public on its final two days. They are held on a continuing basis in virtually all markets and normally attract companies from around the globe. Source: WikiPedia
Saki Says...
This niche isn't too competitive so with some careful keyword research and some high quality content you could still do well in 2023.