Forums in the Traditional Art Niche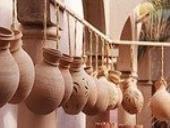 These are the 9 most relevant discussion forums in the traditional art niche.
If you don't see too many relevant forums listed then please do tell us about some forums in this niche by using the submit forum page. Alternatively why not start your own forum in this niche?
To find WordPress and Blogger blogs in this niche, visit our sister site FindABlog.Net.
About the Traditional Art Niche
Folk art covers all forms of visual art made in the context of folk culture. Definitions vary, but generally the objects have practical utility of some kind, rather than being exclusively decorative. The makers of folk art are normally trained within a popular tradition, rather than in the fine art tradition of the culture. There is often overlap, or contested ground, with naive art, but in traditional societies where ethnographic art is still made, that term is normally used instead of folk art. The types of object covered by the term varies considerably and in particular divergent categories of cultural production are comprehended by its usage in Europe, where the term originated, and in the United States, where it developed for the most part along very different lines. Folk arts are rooted in and reflective of the cultural life of a community. They encompass the body of expressive culture associated with the fields of folklore and cultural heritage. Source: WikiPedia
Saki Says...
Yikes - this is a VERY competitive niche but if you had a forum in this niche you could potentially make a lot of money!